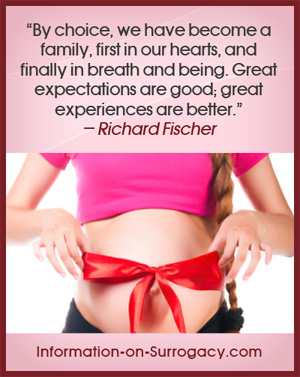 by julie
(united kingdom)
I am a 43 year old happily married mother with 2 boys 23 and 18 years old and 2 girls 22 and 13 years old that i love dearly. The biggest problem i feel i have is that i have been sterilized and was wondering if i can have this reversed and am i too old to be a surrogate mother. I have a great friend that i think highly of and would love to give her a baby as she would make an excellent mother and should be given a chance as she is always giving to others and it is time she got a bit back as she has had complications in the past.
Reply by Rayven
You are still able to be a gestational surrogate mother (carrying your friend's eggs, or an egg donor's eggs) but not a traditional surrogate mother (using your own eggs). You do not need to get a reversal to be a gestational surrogate.
Usually, when a woman is over 40, her chances of becoming a surrogate mother decrease significantly unless she has recently had a baby. In your case, because this is a friend, it might not matter so much, but if you intend to do this, you need to do it soon.
Best wishes!