A surrogate agency is very important when finding a surrogate mother or learning how to become a surrogate mother. There are many surrogacy agencies throughout the world, ready to assist US and International intended parents.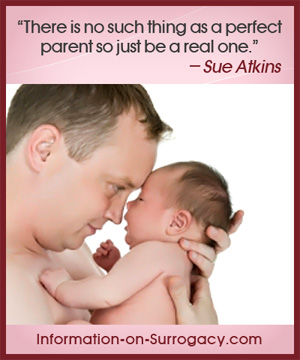 Here are a few that Information on Surrogacy recommends.
Each of the following agencies have written about their service in their own words, so that you can get to know them a little better.
Please visit the websites of these great surrogacy agencies, and find the agency that will work the best for your needs.
Agencies are wonderful for finding a surrogate mother, handling all the details for you so that you can concentrate on selecting the surrogate mother who is perfect for you.
And if you're interested in how to become a surrogate mother, a surrogate agency can help you too!
A surrogate mother is never charged a fee by surrogacy agencies.
Every woman who is considering becoming a surrogate mother should investigate going through an agency for her journey. Matching through an agency can make the entire surrogacy process easier and less stressful.
---
Surrogate Agency List
---
Extraordinary Conceptions


715 Leeward Ave
San Marcos, CA 92078
(760)798-2265
Extraordinary Conceptions
Extraordinary Conceptions, LLC is an international, bi-lingual egg donor and surrogacy agency that is located in surrogate-friendly California. We are one of the largest agencies with over 1,500 egg donors and caring surrogates.
We do not charge a fee to view our surrogate and donor database and do not collect any money until the donor and/or surrogate passes her screening. Our company policy is to make sure you find your perfect match before any money is collected. We believe that everyone has the right to achieve their dreams of having a family.
Visit Extraordinary Conceptions
---
The Surrogacy SOURCE


The Surrogacy SOURCE
24012 Calle De La Plata, Ste. 370
Laguna Hills, CA 92653
Ph: (949) 872-2800 x103
Website: The Surrogacy SOURCE
The Surrogacy SOURCE and The Donor SOURCE (divisions of Fertility SOURCE Companies) is the largest egg donor & surrogacy agency operating on a national level in the United States. We have the most comprehensive egg donor and surrogacy databases in the country, containing over 1,400 available egg donors from all parts of the country as well as over 25 gestational carriers from the various states permitting gestational surrogacy. All of our highly qualified egg donors and surrogates are personally met, carefully screened and counseled, and ready to be matched with Intended Parents.
We are registered with the FDA and are compliant with all regulations and standards set forth by the American Society for Reproductive Medicine. We have been in business since 2003, and have served over 2,000 satisfied Intended Parents since inception. Our company is owned by a group of prominent and successful fertility physicians and business people with extensive experience in the fertility field.
The agency's commitment is to provide the most compassionate and skilled care to couples seeking third-party assisted reproduction services. The Donor SOURCE has a local presence in a growing number of metro areas, across the United States.
---
Conceptual Options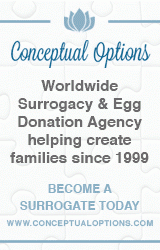 Conceptual Options, LLC.
13025 Danielson Street, Suite 200
Poway, CA 92064
(858) 748-4222
www.ConceptualOptions.com
Our California Surrogacy agency is dedicated to helping build your family through surrogacy, egg donation and sperm donation since 1999. Regardless of your Marital status, location, or sexual orientation, our full service agency has the knowledge, expertise, and professionalism to guide you through the surrogacy process. Inside our California surrogacy agency, you will have access to our full service International staff.
OUR SURROGACY AGENCY PROVIDES THE FOLLOWING:
Value-Based Programs in both Surrogacy and Egg Donation.
Surrogate Mothers perfectly matched with your family.
An Egg Donor database with actual qualified candidates.
An understanding and compassionate staff.
International surrogacy case managers in-house.
English, German, French, Spanish, Italian and Chinese translators.
Three Psychologists (Phd's) in-house and available.
In-house psychological support team for surrogates, egg donors and intended parents.
An unyielding commitment to achieving your goals while maintaining confidentiality.
Three Southern California locations to serve our clients
On call Psychological support system
---
Golden Surrogacy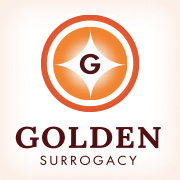 Golden Surrogacy
40 Skokie Blvd
Suite 260
Northbrook, IL 60062
(800) 824-4428
website: www.goldensurrogacy.com
Golden Surrogacy is a reproductive consulting agency, specializing in Gestational Surrogacy.They assist heterosexual and same-sex couples, as well as individuals in becoming parents through the use of a Gestational Carrier. Located in Chicago, IL, this company serves intended parents from all over the United States and internationally abroad from other countries. Gestational Carriers are only recruited from the United States and must reside in a state with favorable surrogacy laws.
Married, same-sex couple Adam and Frank Golden founded the agency in 2013 after the birth of their own daughter through surrogacy a year prior. As Program Director, Frank Golden possesses over 12 years of experience from the customer service industry. He has assembled a team of experts who have 40 years of combined experience in the world of surrogacy, to include psychologists and support coordinators.
Please visit the website for Golden Surrogacy to learn more about the surrogacy process, their staff, and to schedule a free initial consultation.
---
Family Source Consultants

101 West Grand Ave.
Chicago, Illinois 60654
T: 312-994-2530
Family Source Consultants Website
Family Source Consultants is based in the Chicago area and Cape Coral, FL. We match and facilitate Gestational Surrogacy and Egg Donation arrangements, and we work with traditional, gay or lesbian couples and individuals of all races, religious and ethnic backgrounds. As members of ASRM (The American Society of Reproductive Medicine)and RESOLVE (The National Infertility Association), we are third party reproduction experts who have a deep passion for assisting others with their family building endeavors. We are always accepting applications for Gestational Surrogates and Egg Donors with most being matched very quickly.
If you are in a position where you are contemplating an alternative path to family creation, you are likely overwhelmed and possibly apprehensive when looking at the many choices you have before you. If you are thinking about becoming a Surrogate or an Egg Donor, you may feel inundated with information and as if you are in a position where you don't know where to start. It is our mission at Family Source to alleviate the pressures all parties are facing and to help make this experience positive and fulfilling for everyone involved. For more information visit www.FamilySourceSurrogacy.com
Visit Family Source Consultants
---
Family Journeys Consultants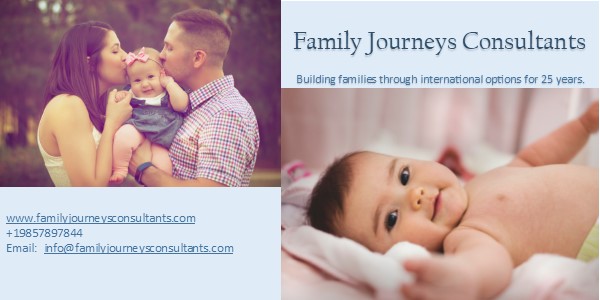 +19857897844
Email:  lisa@familyjourneysconsultants.com
Family Journeys Consultants Website
Family Journeys Consultants has been helping families grow for more than 25 years. We're ready to walk with you through the process, through fertility options offered internationally, where professionals, laws, and costs are in your favor.
FJC is here to help your family arrange your fertility treatment or surrogacy process. You decide the clinic location that feels most comfortable for you based on consultations with the medical professionals.
We know that traveling internationally can be intimidating, but to travel for something so personal and serious can be overwhelming. The medical details are handled by the professionals and we assist you with travel, appointments, transportation, accommodations, translations and needs while in the country.
Some of the Benefits:
Conference Call/Video Chat/Email Session with your Doctor – an initial consultation with your fertility specialist concerning your medical concerns and desires.
Two Representatives handling your case. One assisting with beginning details and one in the country of your choice, helping you each step of the way starting at the airport. This person is bi-lingual with years of experience assisting families with accommodations, transportation, car for general needs, sight-seeing and shopping.
Begin Immediately with no wait time.
Visit Family Journeys Consultants
---
Related Pages