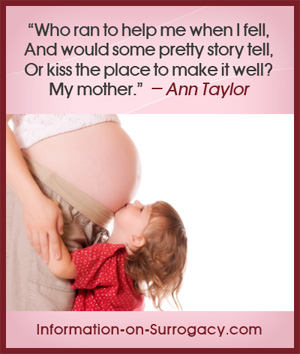 i want to have a 4th baby but had a partial hysteroctomy 6 years ago how do i go about askin my best friend to carry my baby? and how much does it cost to use my eggs and my boyfriends sperms?
I have 3 kids 13. 11 and 7 but 6 years ago had to have an emergency surgery and had to remove my uterus…worst day of my life…i always wanted more children..now i have found the man that is my everything and we really want to have a baby together….been doin alot of research but still a lil in the dark..i have kinda ask my best friend and she says yes but i wonder if she thinks im jokin…
Reply by Rayven
The hardest part about asking someone to be your surrogate mother is bringing it up in the first place. If you have already broached this subject to your friend, then the hardest part is already over!
Just do the same thing again. Talk to her about it. Tell her you are serious. Bring it up frequently in conversation. Start to make plans. She'll quickly understand that you really are interested in becoming a parent through surrogacy.
And let her know that yes, you were serious when you asked her, but that you understand that she might have thought you weren't serious. When she does understand you are serious, she can reexamine her answer.
As far as how much it costs, there are too many variables in your personal situation to give you any sort of estimate. I have no idea if you are planning a traditional or gestational surrogacy, if your friend will be compensated, if your clinic is local, or even if surrogacy is legal in your state. Surrogacy can range from $20K to over $100K, depending on so many factors.
Even though this is your friend, on thing I need to stress to you is that you BOTH will need attorneys and you will be financially responsible for paying for both attorneys.
Best wishes!