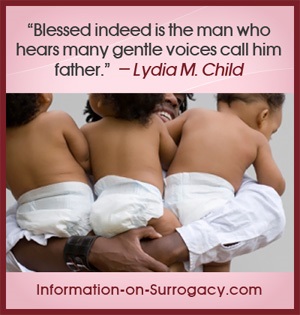 The issue of surrogate health insurance is not to be taken lightly.
Under most circumstances, the pregnancy health care she receives during a surrogate pregnancy is covered by her own personal policy.
Sometimes, surrogate insurance coverage will need to be obtained.
Please note: This site is not intended to be legal council. No portion of the ideas and concepts represented on this website should be used as a substitute for a surrogacy attorney's advice. Make sure you consult your lawyer on all issues regarding surrogacy.
If a surrogate mother already has health insurance through her or her partner's employer, chances are that health insurance will cover the surrogate pregnancy.
There are some exclusions that may apply.
---
Surrogate Insurance Coverage Exclusions
Most private health insurance plans will not pay any fees associated with infertility.
These fees would include anything pertaining to getting pregnant, such as the IVF procedures, but the pregnancy itself, no matter how the surrogate became pregnant, is covered.
Some preliminary testing, such as STD tests, an annual pap smear, and other tests should be submitted to the surrogate health insurance company to see if it would be covered.
Also, some insurance companies will pay for some of the surrogate's medications in relation to fertility treatments.
For instance, mine paid part of my progesterone on a regular basis.
A surrogate's health insurance will most likely cover the pregnancy itself, as she is the insured party.
It will not usually matter if the baby is not her child, as due to HIPPA regulations, it is none of the insurance company's business how the surrogate was impregnated.
She is their insured party, and with rare exception, her surrogate pregnancy is covered.
Some companies will absolutely refuse to cover a surrogate with surrogate health insurance. It is important to determine in advance if the insurance company will or will not cover the pregnancy health.
In some situations, an insurance company will put a clause in their contract stating that they will not cover "surrogate parenting".  This means that if the insured party, needs to obtain a surrogate mother to assist them in starting a family, the insurance company would not cover the pregnancy of the surrogate mother.
This does not mean they will not cover the pregnancy of their own insured party, even if she is a surrogate mother. If, however, the exclusion says that they will not cover a "surrogate pregnancy", then that most likely means that if their insured party became a surrogate mother for another couple, they would not cover the pregnancy.
Insurance companies are coming up with new ways to limit their expenses. Go through your insurance handbook with a fine tooth comb.  Read the entire thing.  Find out if there are any questionable surrogate insurance coverage exclusions, and bring them to the attention of your agency and/or lawyer.
Often calling the insurance company directly is not the best idea. Misinformed customer service representatives will give mixed answers. Consulting your surrogacy lawyer is your best option.
If an insurance company without any surrogacy exclusions refuses to pay pregnancy health care expenses, a lawyer will need to get involved. Any expenses obtained by the lawyer or any unpaid medical bills will be the responsibility of the intended parents.
---
Obtaining Pregnancy Health Care
For surrogates who do not currently have surrogate insurance coverage, or those whose health insurance has surrogacy exclusions, it will be necessary to obtain surrogate health insurance.
There are many plans available, depending on your state. You will need to call around. Unfortunately, there is not one specific resource to lead you to.
Some will require waiting periods in order to become pregnant.
Most of these policies are expensive.
If it is at all possible, the surrogate should plan on using her private health insurance to keep the costs of the surrogacy down for the intended parents.
Another viable option is a discount or medical savings plan. This discount program can save 40-60%, sometimes more, off hospital and doctor's bills, reducing them to their wholesale prices.
It's a wonderful option for those who do not have the ability to obtain surrogate insurance coverage, and can even be obtained after the surrogate is pregnant. This is a terrific system, and in many cases is actually cheaper than a high deductible insurance plan, though the discount program is not in itself insurance.
Find Out More About the Discount Program
---
Using Medicaid or State Funded Pregnancy Coverage
Using Medicaid as surrogate health insurance for a low income surrogate mother could be seen as a misuse of state funds and of the governmental system. In some states it could be a crime.
It should be avoided. A low income surrogate mother should have surrogate insurance coverage obtained for her, at the intended parents' expense.
Learn More About State Funded Insurance
Home  > Surrogacy Laws & Insurance  > Surrogate Health Insurance