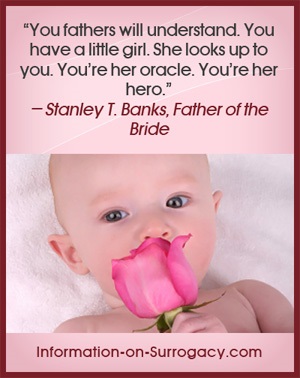 Surrogacy insurance, aka pregnancy health care, is an integral part to the surrogacy process.
There are several methods to obtaining and using surrogate insurance coverage.
Read on to learn which is best for your surrogate pregnancy.
Surrogacy is complicated.
First, there are months of research.
Then, you have to go through the process of finding an agency and/or attorney.
Then there's matching, where you search and search for the perfect surrogate mother or set of intended parents to work with, before beginning the grueling task of sorting out the surrogacy contract.
Sometime along the way, the issue of surrogate insurance coverage, and pregnancy health care come into play.
Here are the options for obtaining surrogacy insurance:
---
The Surrogate's Current Pregnancy Health Care
Whenever possible, the best solution for obtaining surrogate insurance coverage is to use the policy that she currently carries, usually as part of employee benefits for herself or her spouse.
This policy should provide decent pregnancy health care as well as major medical coverage, and will not cost her any additional money to use.
The intended parents will pay for all co-pays and deductibles applicable to the surrogate pregnancy and delivery.
Occasionally, using this as surrogacy insurance is not an option. Some insurance companies have started to institute exclusions in the policies, specifically denying the use of surrogate insurance coverage.
These exclusions are quite confusing, as most policies exclude "surrogate parenting": the act of the intended parents attempting to cover their surrogate's pregnancy on the intended parent's health insurance policy.
If a surrogate has this exclusion in her regular health care policy, it usually does not mean that she, herself, on her own policy won't be covered for a pregnancy. But don't take my word for it; show it to your lawyer.
Policies that specifically exclude "surrogate pregnancy" are an entirely different situation. This means that the surrogate mother, if she is acting as a surrogate mother, is not covered for her pregnancy by her own insurance company. Time to look into other options (again, call your lawyer).
Action: Examine the surrogate's health insurance policy for exclusions, and provide a copy of the benefits booklet to both surrogacy attorneys to examine.
Also See: Surrogate Health Insurance Questions
---
Obtaining a Regular Policy
If you find yourself in a situation where the surrogate mother's regular insurance policy will not cover surrogate pregnancy, or if your surrogate did not have medical insurance to begin with, your first option is to obtain a regular medical policy for the purpose of surrogacy insurance for her. If you are working with an agency, they should be able to help.
Alternately, you can get a quote from one of the following online places. I've done this before, and they usually feed the lead (you) to a local person, who gives you a call. When you get an online quote, Information on Surrogacy receives a commission (which helps to support this site). These companies are the top ones online.
---
eHealthInsurance
- FREE Instant Quotes!
---
Assurant: Short Term Health Insurance
---
InsureMe!
Shop and Compare
multiple Health Insurance quotes for free.
---
It has not been my experience that you will find a maternity policy on its own; rather, you will need to pay for a general medical policy with pregnancy health care added on. This is actually a good thing as if the surrogate mother experiences any sort of non-pregnancy related complications while pregnant, and did not previously have medical insurance, she is now covered.
The intended parents usually pay for surrogacy insurance if the surrogate mother has obtained it specifically for the surrogacy. They also pay deductibles and co-pays, as applicable.
Action: Apply to the above companies online, (or call around locally) and ask for medical coverage with maternity benefits. Before signing, find out if there is a waiting period to use the maternity coverage, and get a copy of the benefits booklet to look for exclusions. Provide a copy to both surrogacy attorneys to examine.
---
Specially Designed Surrogacy Insurance
There are a couple companies out there who specifically write surrogacy insurance. These policies (surrogate insurance coverage) are to protect the intended parents from high medical bills due to maternity complications where the surrogate mother is either uninsured or under-insured, as well as other unforeseen surrogacy issues.
The policies do not come cheap, and do come with very high medical deductibles. They are more for "worst case scenario" and less for regular, every day pregnancy health care. They are great surrogate insurance coverage for catastrophes and not so great for the basics.
My last intended parents obtained a New Life Agency surrogacy insurance policy for me during our first surrogacy, in addition to my excellent personal health insurance. Though the policy sat unused, it was nice knowing that it was available if something bad were to happen. They did not renew the policy for our second surrogacy together.
Action: Google Lloyd's of London and New Life Agency. Call them up and let them know that you are interested in obtaining a surrogacy insurance policy. Compare rates and benefits.
Also See: Surrogacy Insurance Myths
---
Health Care Discount Program
If you have exhausted your surrogacy insurance searches to no avail, or if the surrogate mother finds out after she has become pregnant that her health insurance will not cover her, you are left with few options. One of them is a medical discount program.
These programs are not insurance. They simply are part of a larger provider network and get discounts on medical expenses, usually when the patient pays in advance. Over the course of a pregnancy, this can save intended parents 40-60% off doctors, tests, and hospital stays.
The discount program that I recommend is one that I personally use, not just for surrogate health coverage, but also for regular medical discounts (and dental, vision and prescriptions) for my entire family. Its very inexpensive and works.
Action: Learn more about using a discount card instead of insurance. If your surrogate is already pregnant, this may be your only option. Weigh the pros and cons and see if you can afford NOT to obtain this inexpensive resource.
Also See: Medical Discount Programs
---
Paying Cash
Occasionally, the intended parents may opt to pay for the surrogate's maternity care directly out of pocket.
This is usually a last resort.
But it's not the total end of the world.
Many doctors will work with patients who do not have major medical insurance.
Often, you can negotiate a cash rate better than the doctor's regular rate, assuming you volunteer to pay in full, in advance.
Many hospitals, afraid of getting nothing from an uninsured patient, will also negotiate better rates for payment in full.
Sometimes you may even be able to sweeten the deal by paying the hospital a deposit in advance of the labor in delivery.
The big key here is to negotiate.
Ask for a discount, and if you don't like what you are being offered, ask to speak to the person in charge and throw a lower number out there.
The most they can say is no, and you may have time to switch to doctors or hospitals that will better accommodate you.
Action: Call the surrogate's OB/GYN and ask what the rate for his services will be when paying in cash. Try to work out a discounted rate for payment in full. Then call the hospital to get an estimate of what their fees will be. See if you can get a discount for prepayment.
---
State Funded Surrogacy
Sometimes a surrogate mother will qualify for Medicaid or another state funded insurance program because she is low income. (Please note: I'm not talking about those who work for the government and are insured through the state. I am speaking only of low-income surrogates here.)
It is tempting to just let the state handle the cost of the pregnancy and use it as surrogacy insurance. But don't do it. It's fraud. And you could end up owing a pretty penny in the end. Find another solution.
Action: Do not use government assistance for surrogacy. Period. If this is the only way you can afford surrogacy, consider waiting until you are better prepared financially. If your surrogate will lose her state assistance because she is taking a fee from you, seriously consider using another surrogate.
Also See: State Funded Surrogacy
I hope these options give you some idea on how to obtain surrogacy insurance. This is a sticking point in many surrogacy agreements. Find the solution that works the best in your situation, and talk it over with your attorney.