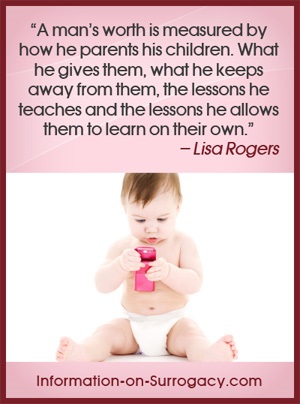 It is common to give surrogacy gifts to both surrogate mothers as well as intended parents. (And don't forget the surrogate babies!) From gift baskets and surrogacy t-shirts to commemorative trees and Kodak photo books, learn all about the custom of gift-giving as it applies to surrogate mom gifts and surrogacy in general.
A surrogate journey, ending with the birth of a baby, is in itself a gift, for all those involved. No material gift could compare for anyone involved, including the surrogate mother.
Gift giving, however, is a very common custom in many American families as well as foreign cultures.
Surrogacy is no exception.
Many surrogate mothers and intended parents would like to give surrogacy gifts to one as symbols of their friendship, as a welcoming gift, or just as a thank-you.
Not every surrogate pregnancy involves gift giving, but most do.
Gifts can be surrogate mom gifts, gifts for intended parents, for the surrogate babies, or even the surrogate mother's children. They do not have to be expensive. Remember, it's the thought that counts.
Here are some surrogacy gifts appropriate for giving:
---
First Meeting Gifts
Many surrogate mothers and intended parents like to gift to one another at the first meeting. This is done after the phone interview. These gifts should be small, inexpensive gifts as both parties might not think of bringing something. This way, no one feels uncomfortable.
Ideas:
Local Gifts
If your surrogacy is a long distance or international surrogacy, it would be appropriate to bring a small item that is indigenous to your area of the world. For example, Scottish Shortbread Cookies, or Montana Huckleberry Hand Lotion.
Homemade Gifts
Another option for a greeting gift is something you have made. Chocolate chip cookies, a loaf of banana bread, or homemade fudge are great options. (Don't try this if you can't cook…remember, you want to make a good impression.)
A Surrogate's Words:
"For my first meeting with my intended parents, I wanted to make them something that showed a little bit about me. On matching, we both found that we enjoyed organic foods, so I made my intended parents a batch of my organic whole grain bran muffins.
My family loves these muffins and I love making them! My intended parents were long distance and had flown in specifically for our meeting. I put the muffins into a nice brand new Tupperware container for them to keep. This way they had breakfast for the following morning."
Gifts for Children
It's also appropriate to gift the surrogate's children with a small item in addition to or instead of surrogate mom gifts. Coloring books or activity books or some other small, age appropriate items are best.
The key here is small and inexpensive.
If you decide to gift at the first meeting, it's more a token of thoughtfulness than something that needs to break your budget. In fact, giving someone something on the expensive side would be inappropriate and would probably make them uncomfortable.
---
At the Transfer
Right before a gestational surrogacy IVF transfer is another common time for surrogacy gifts. These gifts are usually symbolic of an achieved pregnancy or are good luck charms for the transfer itself.
Fertility Charms
These fun, good-luck items are commonly given as surrogate mom gifts and to intended mothers at the time of transfer. Some see fertility charms as silly, others as superstitious, but mostly they're just fun. And as one intended mother put it, "It can't hurt, right?"

Pregnancy Tests
Purchasing a few (dozen) pregnancy tests for your surrogate mother is an excellent idea before a transfer. You can get them at a huge discount. You could even put together a small gift basket with stretch mark cream and bath and body products with them.
Surrogacy T-Shirts
The perfect gift to give your intended parents or surrogate mother at transfer time is a surrogacy t-shirt.
These are available for intended mothers, intended fathers, and surrogate mothers.
There are even cute items available for the surrogate babies! They are great, positive thinking items.
Bedrest
A gestational surrogate mother often has to have 1-3 days bedrest following an IVF transfer. Give her a goody basket with various items intended to keep her busy while stuck in bed. Things like bestselling paperbacks, hand-held video games, a deck of cards, and even a gift certificate to a local delivery restaurant are ideas of things to put in your care package.
---
During the Pregnancy
Often, intended parents wish to give their surrogate mother little gifts she can use throughout the pregnancy. These surrogate mom gifts may be given on a regular basis, or as an occasional, or one-time only gift.
The surrogacy gifts can be large or small, depending on the way an intended parent views gift giving, and on their budget.
The surrogate mom gifts can be sentimental or useful. Each situation is different. Here are some ideas.
Surrogacy T-Shirts
Cute maternity surrogacy t-shirts are available, inexpensively. These are great to give as a surrogate mother starts to show. How exciting!
Restaurants
One of the best little surrogacy gifts intended parents can gift their surrogate mother with is an occasional gift certificate for a local restaurant.
During the first trimester, the surrogate mother can be plagued with morning sickness, making cooking extremely unpleasant. Having the ability to take her family out for a meal on someone else is refreshing.
During the rest of the pregnancy, it can be exhausting carrying a baby, especially multiples. A nice dinner out is a welcome break to cooking at home.
Gift Baskets
Gift baskets are always fun! Try sending an intended mother or surrogate mother a spa gift basket to take a relaxing bubble bath. Or send the surrogate's husband a nice gourmet steak package so he can grill dinner and she can relax. How about an entertainment basket for a nice night out for intended parents before they become parents?
---
At the Birth
Sentimental
Sometimes you want to give something special to your surrogate mother or intended parents to commemorate the birth of the surrogate babies.
The birth of the baby is a very significant event, and gifting something significant (not expensive, but significant) is appropriate. Here are some ideas.
Name a Star!
The birth of the surrogate baby is a miracle. After all the years of waiting and planning, finally the baby is here! Something this momentous deserves to be commemorated in a monumental way. Why not name a star? This is a great gift to give the intended parents, naming a star after the baby, as well as the surrogate mother, an angel who made their dreams come true.
TreeGiving
Similar to naming a star, another great surrogacy gift is the gift of a tree, planted in honor of the newly born baby or in honor of the surrogate mother who helped bring him here.
Bonsai Trees
A third surrogacy gifts idea for commemorating a surrogate baby's birth is a bonsai tree. These unique little trees live for decades. A tree given as a surrogate mom gift will always remind her of the baby she helped bring into the world. One for intended parents will always remind them of the surrogate mother who helped make their family possible.
Useful or Fun
Not all surrogacy gifts need to be sentimental. Those matches that have a more humorous or even practical personality may find that sentimental gifts are not their cup of tea. Here are other ideas:
Wine or Beer Club
After 9+ months of not being allowed to have a single alcoholic beverage, a wine or beer of the month gift can be a fun way to show your appreciation for some of the sacrifices a surrogate mother has made! Many online stores offer this service. Some even offer you the ability to personalize the label.
New Baby Kit
It will be hard for any surrogate mother to resist the urge to gift her intended parents with baby items. Give in to the urge! My suggestion is to purchase for your intended parents your favorite baby item. For instance, I absolutely could not live without baby sleeping bags. So I got my intended parents matching twin sleeping bags for their babies.
In addition to that, if your intended parents are long distance and have traveled to your location for the birth of their baby, a gift basket with diapers, wipes, and other immediate necessities can be very helpful.
A Surrogate's Words:
"For my last surrogacy journey, the baby came a little early, and surprised us all by deciding to be born a week before my intended parents were planning to be here. They were long distance so had to make an emergency flight to the hospital.
While my intended parents and I were in the hospital, my husband thoughtfully went to the local grocery store to buy them diapers, wipes, and some food items so that they could concentrate on their new baby that first night, instead of necessities that they had forgotten to bring. It was really helpful for them."
There are many places online to purchase these things. Some have better prices than you can find in the store, with discounted shipping.
---
Holiday, Birthday and Anytime Gifts
The above surrogacy gifts mentioned are ones that are surrogacy specific in some way or another. But don't let these limit you! You can give any sort of gift your heart desires, or, you can choose to not gift at all. Here are some more ideas on gifts you can give to your surrogate mother or intended parents.
Flowers
These are great surrogacy gifts for surrogates and intended parents. Flowers are a universal sign of thankfulness, friendship, and congratulations. They are reasonably priced, brighten anyone's day, and are so easy to order online.
Chocolate
Who doesn't love chocolate? Giving chocolate surrogacy gifts can be a delicious way to show appreciation. You can even create chocolate birth announcements. Perfect for those mid-pregnancy cravings.
Candles
Candles are another very popular choice to gift intended parents and surrogates. Remember, gifts don't have to be overly expensive, it is more about the thought that goes into it. A nice candle to brighten up a surrogate's day, or to mask the lingering smell of the new parent's diaper pail can be a wonderful surrogacy gift.
Children
Don't forget birthdays and holidays of surrogate's children! Again, don't try and get something expensive, but have a little fun and get something for the kids. Surrogates, if your intended parents have other children, remember them as well. Target's and Walmart's are very common across the USA. If you are planning toys, they have a great selection and it's easy to return and exchange items if needed. Shop online; it's easier.