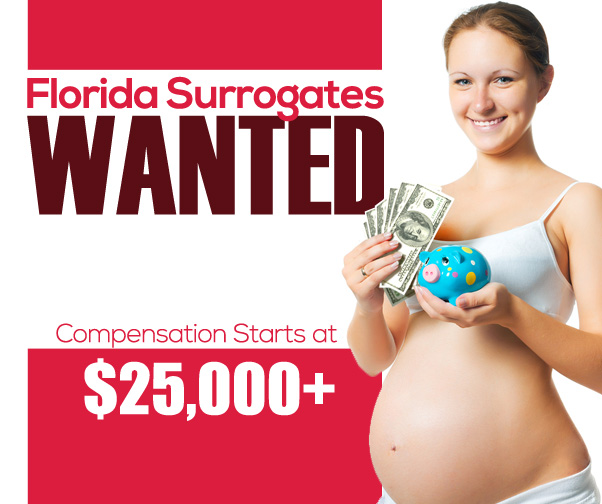 Visited other agencies who are unwilling to work with Florida surrogates because of Zika? We are looking for surrogates in Florida NOW!
If you've ever thought about giving the gift of a family to a couple in need, now is the time. Surrogacy is a beautiful way to help two families significantly; one couple becomes parents, and the other has a nice nest egg that can be used to pay off debt, buy a new car, or even put a down payment on a house.
The baby you carry will not be biologically related to you and compensation starts at $25,000 for first-time surrogates, plus a starting bonus once testing and contracts are complete.
To qualify, you must: 
Be between the ages of 21 and 38
Have given birth to at least one child that you are currently raising
Have relatively normal, uncomplicated pregnancies and births
Regular menstrual cycles
BMI under 30

Must not be on government assistance

Non-smoking household
C-sections are fine, and it's OK if your tubes are tied. If you have an IUD it will need to be removed. If you are on Depo shots, you will need to stop them.
So what about Zika? Well, there are a few precautions you'll need to agree to take. We'd like you to consider wearing long sleeves as much as possible when outside your home, and not to expose yourself unnecessarily to mosquito habitats (for instance, cancel your annual camping trip and walk on a treadmill instead of taking those nature hikes). You'll need to get into the habit of applying bug spray with DEET in it whenever you plan to be outside. If you do get bit by a mosquito, you'll need to inform your doctor and be tested for Zika. And most importantly, you'll need to use a condom for sexual relations throughout your surrogate journey. With your diligence and commitment to these steps, Zika becomes a very small threat.
Please fill out the form below, or call 1-800-716-3642 to get started. Earn a $750 signing bonus when you get started RIGHT NOW – please ask for details. Rayven will be in touch with you shortly to answer all your questions and walk you through the process.