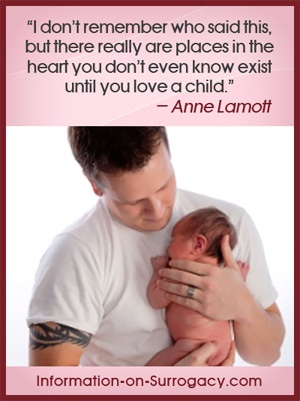 Finding a surrogate mother can be a difficult task, but it doesn't have to be. Whether you are interested in becoming a surrogate mother or you're ready to place surrogate mother wanted ads, this section of Information on Surrogacy will help you navigate matching in commercial surrogacy.
Now that you've decided on becoming a surrogate mother, or becoming parents through surrogacy, it's time to find your perfect match.
In many ways, finding a surrogate mother is much like dating.
There is a lot of insecurity, self-doubt, and uncomfortable questions, and everyone is on their best behavior. And, just like dating, you need to get to know one another before you make a commitment.
This takes time.
Although you might be tempted to rush through this process, it is important that you really take the time to make sure that you are finding a surrogate mother (or intended parents) that will truly work the best for you.
There are two different ways that you can match with the perfect surrogate mother or intended parents.
Surrogacy Agency Matching
Independent Surrogacy Matching
Both methods have unique pros and cons for those interested in becoming a surrogate mother as well as those interested in finding a surrogate mother.
---
Commercial Surrogacy Agencies
There are hundreds of commercial surrogacy agencies throughout the country and the world, all created to help intended parents in finding a surrogate mother.
These agencies take a fee from the intended parents in order to use their services. Those interested in becoming a surrogate mother are not charged a fee.
---
Surrogacy Classified Ads
Whether you are looking to match independently, or are interested in working with an agency, an excellent place to find either a surrogate mother or a set of intended parents is our Information on Surrogacy classified ads postings.
This section is free to post in if you are matching independently, though agency represented ads do have a small fee.
---
Independent Surrogacy Matches
For those who do not wish to work with an agency for finding a surrogate mother, or have already made a match, the option of going independent is very appealing. Independent surrogacy matches do not benefit from the services provided by an agency, but can save intended parents a substantial amount of money (a very good thing to consider when becoming a surrogate mother).
---
Interviewing Your Surrogacy Match
Surrogate Mother Wanted! Once you have started to find a few potential matches, it is important to do an initial interview with them over the phone or email.
Each potential surrogate mother and each set of intended parents are looking for specific traits and qualities in their perfect match, again, much like dating.
The interview process is intended to help each party find those who share these traits and qualities, and to pass on those who do not, before becoming emotionally involved.
---
Meeting in Person
After surrogacy interviewing, it is very important that potential surrogates and intended parents meet together in person. This should be done before making any sort of formal commitment, irregardless of how well the interview process goes.
Finding a surrogate mother can be stressful, but just like dating, once you have found "the one", you will know. Taking the time to find someone you can trust through this process is so very important. It is the difference between a wonderful surrogacy journey and a frightening one. Remember, take your time and get it right.