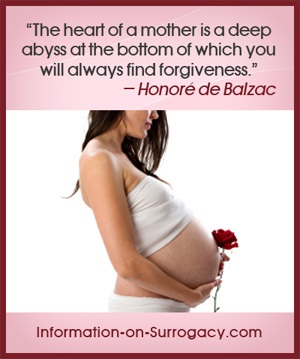 Miscellaneous expenses in surrogacy are common fees, in addition to surrogacy compensation, that intended parents pay as part of the cost of surrogate mother. These are the smaller, day-to-day, surrogate pregnancy related expenses.
It is important to note, however, that the expenses in surrogacy the intended parents will cover needs to be clearly stated before the expense occurs. Your surrogacy compensation contract should clearly define what fees will be reimbursed and what will not.
For example, some surrogates, without a clearly defined miscellaneous expenses in surrogacy clause, may decide to bill the intended parents for take-out dinner two times a week. She may reason that she was too tired from being pregnant to cook; therefore this was a surrogate pregnancy related expense.
This type of behavior is unfairly taking advantage of intended parents, and is the main reason why it is important to define what fees will be covered.
Though intended parents should pay for any surrogate pregnancy related expense the surrogate mother has when it comes to carrying and delivering their child, there has to be balance so that no one feels as though it is unfair.
Each surrogacy compensation situation is different. Each set of intended parents and surrogate mother are different.
What might be seen as absurd in one arrangement might be commonplace in another. Some intended parents might see take-out twice a week as a necessary part of surrogate pregnancy.
Some surrogate mothers might feel pregnancy massage is absolutely mandatory. The important thing here is to talk about these expenses in surrogacy beforehand, and make arrangements before they are incurred.
Even if an expense is not in a contract or surrogacy arrangement, as long as it is talked about before the expense is actually made, it may be something that can be worked out. Problems occur when intended parents consistently get billed for things they never agreed to pay for, and feel that those fees are for things that were not necessary.
---
Types of Expenses in Surrogacy
Again, these miscellaneous expenses in surrogacy will vary by individual surrogacy arrangement, but can include the following.
Every surrogate pregnancy will have prenatal vitamins.
Sometimes these are prescribed by a surrogate''s OB/GYN, and insurance will cover some, if not all of the cost.
Sometimes the surrogate and intended parents will want her to take a specific kind of more expensive vitamin.
Or, it may be that she takes a regular, generic, over-the-counter prenatal vitamin. Whatever the case, these should be paid for by the intended parents.
During the two-week wait, a surrogate will probably take multiple pregnancy tests. This can get quite expensive.
Some intended parents will pay for some or all of the tests, some intended parents will supply the surrogate with tests, and some will pay for no tests, instead wishing to wait for the beta testing done by the laboratory. This should be discussed in advance.
Information on Discount Pregnancy Tests
If the surrogate mother needs to travel to the clinic, her mileage or airfare will be covered by the intended parents. It is also common for the surrogate to be allowed to take a companion, usually her husband, with her at the intended parents' expense.
Her hotel, rental car or taxi, and food while she is traveling for the transfer will also be covered by the intended parents. The transfer and subsequent bedrest required by the clinic may last anywhere from 2-10 days, depending on the clinic.
A surrogate will most likely need to drive to prenatal visits and to labs during the course of the surrogate pregnancy. She may also be within driving distance of the IVF clinic. With the cost of gas today, it is common that mileage, at the current government rate, is included as part of the expenses in surrogacy. Often, if the surrogate does not need to travel far, say under 5-10 miles, to her doctor, this expense is not included in the cost of surrogate mother.
Any miscellaneous parking expenses such as tolls on the way to doctor''s visits or to the clinic, or parking fees at the airport while flying for the transfer are the responsibility of the intended parents.
If the surrogate needs to pay for child care while attending her doctor's appointments or while away for the transfer or birth, these expenses should be paid by the intended parents.
Long distance charges, whether domestic or international while speaking with the surrogate, or fax fees for various medical and legal forms will be reimbursed to the surrogate mother.
Doctor's Office Co-Pays or Deductibles
Most insurance companies have deductibles and/or doctor's office co-pays for visits, ultrasounds, and labs.
In addition to prenatal vitamins, surrogate's might need doctor prescribed or monitored over-the-counter medications for things such as heartburn, anti-nausea, or low iron. If these medications are related to the surrogate pregnancy, and not to another condition, then these should be paid for by the intended parents.
---
Irregular Expenses
While these expenses in surrogacy occur in many arrangements, they do not occur in all surrogate pregnancies.
Extra Dairy or Organic Foods
This might be an item to include if the intended parents are concerned with eating only, or mostly, organic foods.
Obviously they would not pay for all of the surrogate''s foods, but could give her a monthly stipend to allow for the increased prices.
This provision might also be used for a surrogate mother who does not consume dairy on a regular basis. She and her intended parents may feel it is necessary to receive a small monthly allowance for extra milk and other products.
This is a rare expense, but some surrogates and intended parents do provide for it.
Generally, if included, this provision is provided 2-4 times in the 3rd trimester.
---
Methods of Payment
Miscellaneous expenses in surrogacy can usually be paid for in one of three ways.
One way to handle miscellaneous expenses in surrogacy is for the surrogate to keep all receipts and send an itemized bill to the agency, escrow agent, or intended parents on a monthly basis.
This can get to be very time consuming.
Most arrangements simply provide a monthly allowance to cover all of the incidentals mentioned above (with exception to travel expenses). This allows the surrogate to not need to keep all the receipts and go through the reimbursement process on a monthly basis. Alternately, some arrangements provide a monthly allowance and any fees in excess of the allowance are billed to the intended parents.
Monthly allowances for miscellaneous expenses in surrogacy range depending on the area the surrogate lives, if she is in need of childcare occasionally, and what her doctor's office co-pays will be. They usually range from $50-350 per month, and may be more in the case of multiples.
All-Inclusive Surrogate Fee Schedules
With exception to travel expenses, and doctor's co-pays/deductibles, an all-inclusive arrangement will have no reimbursement of miscellaneous expenses in surrogacy whatsoever.
This is one of the reasons why an all inclusive surrogacy compensation is higher than an itemized compensation plan.
Travel expenses follow their own rule, and when a flight or hotel stay is involved, they work a little differently. Even in a monthly allowance/all-inclusive situation, travel expenses are paid for separately.
They are either paid by their actual, receipt itemized expenses, or else the flights are paid for at their actual expenses, and the surrogate is given a per-diem for the hotel, transportation, and food portions of travel.
These per-diem rates vary, depending on if it is just the surrogate going or the surrogate and a companion. They also vary by city. The rates range from around $150-400 per day.