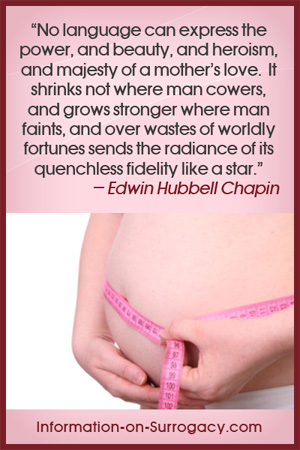 AS THE MOTHER OF A SURROGATE MOTHER, READY TO DELIVER, I WOULD LIKE TO GET HER A SMALL PERSONAL GIFT FOR HER WILLINGNESS TO GIVE ANOTHER COUPLE A DREAM OF A LIFETIME. CAN YOU HELP ME WITH SOME IDEAS?
Reply by Rayven
I have a whole page on this site just for coming up with fun ideas on gifts to give to a surrogate mother or intended parents.
Some sentimental ideas for the birth: how about naming a star for her, getting her a bonsai tree, or having a tree planted in her honor? Or maybe a gift of a spa day, or massage after her hard work?
There are a bunch of different ideas on the page linked above. Check them out!
Best wishes!