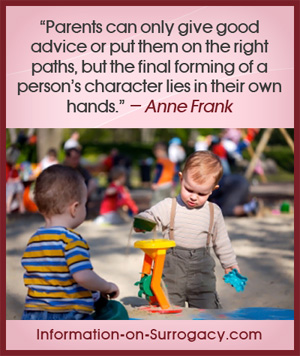 On May 13th, justice was meted out to Tonya Collins – the former owner of a surrogacy agency called SurroGenesis in Modesto, California – fraud case was finally settled. The judge sentenced her to five years and three months in prison for four counts of wire fraud in which she conned several families out of over two million dollars – money they had paid to be put towards their surrogacies.
As one can imagine, this situation has been emotionally, not to mention financially, burdensome for the innocent parties involved. It is something that many of them will not easily overcome. However, there seems to be a silver lining in this travesty of a situation. While many families were left devastated, this situation has actually brought two families together.
Wife and mother of three, Fresno resident Katir Froman was eager to become a surrogate. She felt that it would be a great feeling to be able to bless another family with a child that they have been wanting but could not have on their own. So, in June of 2007, she signed up to be a surrogate through SurroGenesis. Not too long afterwards, she was matched up with a family. Little did she know of the scandal that was going to break.
When she was well into her 3rd trimester (only a month and a half away from delivery) with twins, Froman received news that Tonya had fled the town and had been embezzling funds. Luckily, Froman was one of the people who were not directly impacted by Collins's actions. Unfortunately, at least 50 other families had fallen victim to the elaborate scheme. Her heart broke for those families., saying that she " was just blown away that somebody could be so heartless and take something that's so important to so many people. It's not like you're stealing money, it was people's hopes and dreams that she took".
In 2010, Froman heard the story of Beth and Marcia Mardones. This Chicago couple were one of the families that had been victimized. They had been conned out of $20,000. Worse, their chance at parenthood had been taken from them. Beth Mardones is quoted as saying "I just felt that all of our hopes of having our own biological child were shattered".
Apparently, the Mardones's story really struck a chord with Froman who says that "My heart was broken for them. I was literally crying watching their interview and I just felt like I needed to help them," She was so touched, in fact, that she contacted them through Facebook and offered them a huge gift – she would carry and deliver their child without any expectation of compensation.
Although it took several tries, the Mardones family did finally get their wish to become parents – something that they view as being a huge blessing. They are now the proud parents of a 14 month old son named Jake who is a reminder of the bond that is now shared between the Fromans and the Mardones families.
As Jay Froman (Beth's husband says "even though Tonya Collins is not a good person, and what she did was wrong, there's still people out there that do the right thing and step up when the time comes".) This story of altruism and humanity is one that gives hope to many.