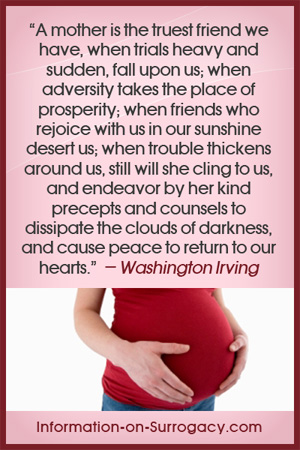 by MALIK
(BRONX NY USA)
HEY THANKS FOR GETTING BACK TO ME BOUT MY PRIOR QUESTION? I'M THE 35Y GAY MALE BEING I'M NEW TO THIS SURROGACY THING, I WAS WONDERING ABOUT HOW THE TRANSFER IS DONE IF DONE TRADITIONAL OR GESTI?
WHICH WOULD BE A LEAST EXPENSE PROMPT WAY I DUNO THE SCIENCE BEHIND THAT I MENTIONED THAT GREY AREA TO MY POTENTIAL SURROGATE & THAT WAS A TOUCHY AREA,ME BEING GAY MALE & ALL WHAT IS THE WHOLE DIFFERENCE BETWEEN TRADITIONAL & GESTATIONAL SURROGATE.
& ONE MORE THING WHICH STATES ARE SURROGATE FRIENDLY I KNOW NYC ISN'T FRIENDLY ONE OF MY SURROGATE IS FROM MISSISSIPPI & OTHER IS FROM TN, I'M TRYING TO FIND A GOOD REPUTABLE ATTORNEY SO I CAN GET SOME LEGAL COUNSEL. I SO CAN SCREEN MY SURROGATES BETTER ?
ANY SUGGESTIONS ON GOOD LEGAL ASSOCIATES I GUESS ILL CHECK WITH THE BAR ASSOCIATION?
Reply by Rayven
Malik,
You are not ready to proceed with a surrogate arrangement at this time. You might be in a few weeks, but not at this time. You still have way too much to learn about the process.
There is never, ever, ever, under any circumstances, any sort of sexual contact between a surrogate mother and either of her intended parents. Ever. Under any circumstances. That's not surrogacy, it's "swinging".
Traditional surrogacy involves Artificial Insemination while gestational surrogacy involves an IVF transfer. In both cases, the intended father will "deposit" a sample into a cup.
As far as which states are surrogacy friendly, they vary. California is the easiest state to have a surrogacy arrangement. If you are looking for attorneys, I'd check for an adoption attorney in the states you are considering and ask for a recommendation from them. Make sure your attorney is NOT an adoption attorney, but has actual experience in surrogacy.
Right now, however, you still have much to learn about the process. Go through this site with a fine tooth comb. Read every single page. Rushing in this process can cost you more than you can possibly imagine, not just financially, but emotionally as well.
I know it's hard, but the best piece of advice I can give anyone in surrogacy is to take it slow.
Best wishes.