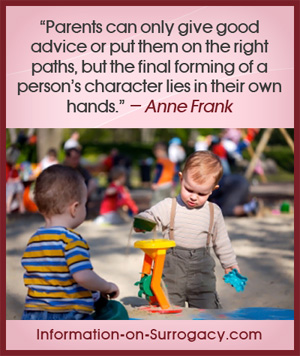 Are you thinking about helping another family be serving as a surrogate mother? Do you already have children of your own? If so, at some point you will have to tell your children about your choice. This can be something that is difficult and even overwhelming since you want to be as sensitive as possible and may not know how your child will react. If you need a few tips on how you can make this a bit easier to get through, read on.
One thing to remember is this: kids are smarter than we usually give them credit for. They are also more accepting of things than an adult would be. So, honestly, all of your fretting may prove to be unfounded.
Telling Your Toddler
Ok, so let's talk about toddlers first. When discussing your plans with your small child, it is really best to keep it as simple as possible. You can tell them that babies grow inside their mommy's bellies and that the intended mother's belly is broken so you are helping her by letting the baby grow in your belly.
You want to be sure that your child knows that the baby you are carrying is for the intended mother and her family and that he/she will be going to live with them after birth. You may have to reiterate this explanation throughout your pregnancy, but it is actually very effective in its simplicity.
Telling Your School-Aged Child
With older children, you can expand more upon the simplistic explanation mentioned above. Once they hit elementary school, kids are better able to understand reproduction to a degree. You can even go into the science of how it works to fertilize an egg and transplant the embryo inside your womb. It may seem like it would be too complex for them to understand, but if you do it right, they will. And they will be reassured that the child that you are carrying is not going to be their brother or sister. This will hopefully make the post-birth transition easier. If you prefer not to go into so much detail you can liken it to baking cookies for a friend. Your friend's oven is broken so you are baking their cookies for them. Bt once the cookies are done, you can't keep them – you have to give them to your friend.
Telling Your Teenager
When it comes to telling your teenager, complete openness is the best policy. They are at the age where they should definitely be able to understand the process of reproduction as well as the science behind surrogacy. When discussing your choice with your teenagers be sure to let them know as many details as possible as well as give them the chance to voice their questions, feelings, and concerns about the surrogacy.
Regardless of the age of your child, you will likely find that they are more understanding and accepting than you may have expected. The key is to be open and honest with them.