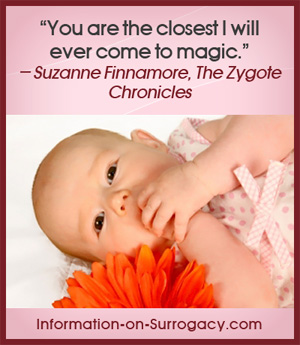 by Katie Felt
(Lincoln, CA)
I just took a blood test after my first try at surrogacy, and I am not pregnant. I never had a trouble getting pregnant on my own. Is there anything I can do better next time?
I have a 7 yr. old and a 4 yr. old. I got pregnant the first time I tried with both of them. My IP's tried with another surrogate 4 times and switched to me and a new egg donor. I took all my meds at 7:30 every night. I have been doing everything right…or at least I thought.
I feel like a big failure now. Does this happen a lot? I am 33…am I too old? The doctor said my uterus looked beautiful. The embryo's were perfect. I am so confused!!!! There really isnt a lot of support. Thanks for doing this. I dont know where else to turn. PLEASE HELP!! THANKS!!
Katie Felt
Reply by Rayven
Katie,
Hang in there! Yes, failed transfers are very common to IVF in general and in surrogacy. It is unfortunate, but true.
If you followed doctor's orders and took your meds, then there is nothing you personally did wrong, and should not feel guilty. Sometimes its just not in the cards.
If your uterus "looked beautiful" you are most definitely not too old (especially at 33…40+ maybe, but not 33).
Have you talked with the nurse/doctor yet? I assume they told you that the test was negative and to stop meds? (if they did not, DO NOT STOP MEDS until they tell you to do so)
They may want to switch up your meds for the next transfer. The best thing you can do for the next transfer is to not let this setback affect you. Don't get stressed about it, realize you did everything you could have done, and the next time will be better.
Best wishes to you!