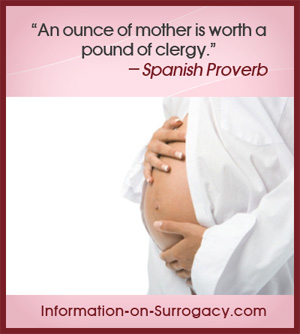 by Tiffany Ludeman
(Warren, MI)
I already have 2 little boys and I'm pregnant with my last child (a little girl). What is a safe waiting period before becoming a surrogate mother after pregnancy?
I also have had C-Sections with my children and will with the new baby… will that be a problem? Because as I understand it, it actually is less risk to the baby if I have a C-Section.
I also am not sure if having so many children of my own will pose a problem. I'm able to handle it, but I'm not sure if it will make a potential family worry since my children are all under the age of three & they keep me so busy.
This is all new to me. I'm not completely sure if this is something that I want to do, but there's no sense in becoming attached to the idea if I won't qualify anyways.
The other issue I'm having is that I love being a mother. It's the most rewarding aspect of my life. My children are perfect in every way (to me, of course). I DO want to see other couples who are unable to have children of their own have an opportunity to feel the happiness and joy that comes with being a parent. Everyone should have that opportunity. However, the first and main reason I'm considering this is because my family could really use the money and I don't mind being pregnant. I'm not heartless, but I cannot honestly say that the satisfaction of helping someone is the main reason I'm interested in this. I don't want to have to lie about the process because I feel that it would ruin the journey, but are there people out there that would understand that? Or is everyone who becomes a surrogate supposed to be in it out of the goodness of their heart? I just don't want to get into this and then feel like a phony or ruin someone else's special time to bond with their child during pregnancy.
Reply by Rayven
Hi Tiffany,
There is no hard set rule about the distance between pregnancies. You simply wait until your OB/GYN clears you. Mine did at my 6 weeks checkup following the birth of my surrogate twins, so it's pretty common to be able to go back-to-back with them.
C-sections are no problem, just know that you will need to have one with the surrogate babies as well.
As far as your own children, again, that's not a problem. It is common for surrogates to have given birth to many children. I've given birth to 5 and am able to do so again. Others have 7, 8, even 10+. Not a concern.
As far as the money concern, if money wasn't offered to women to become surrogate mothers, surrogates would be few and far between. Most surrogates feel what you are describing (though few would admit it, mainly because of society's stigma on surrogacy).
The motivation of money is kinda like the 600 pound gorilla in the room. Everyone tries to ignore it…
When questioned about your motives for surrogacy, be honest. Yes, you desire to help a couple start their family, but you also see surrogacy as a way that that couple can help your family. You are able to give them a child. They are able to help you with a down-payment on your home (etc). Surrogacy is a way that two families can help one another in a significant and life-changing way.