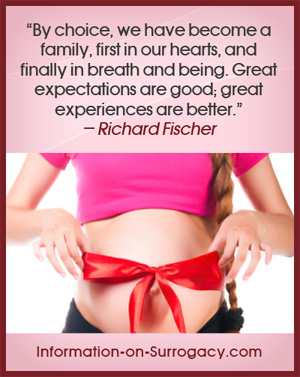 by Stephanie
(Miami, Florida)
I can't carry my own babies because I don't have Uterus, I would like to know how it works. How it cost for a person to carry my baby and how much it will cost me with everything included, Dr. visits to check the pregnancy and Hospital bills, etc. I have my 2 ovaries and service and the only thing I'm missing is my uterus. This surrogate more then adoption? Please I need all the advice I can get.
Reply by Rayven
Hi Stephanie,
Let me try and answer all your questions here. What you are looking for is a gestational surrogate to carry your biological children.
How much does surrogacy cost?
Gestational surrogacy does not have one set price tag, and depends on several factors. How close (distance wise) will you be to your surrogate? A few miles away, or thousands of miles away? Is your surrogate mother a family member who will do it for free, or are you paying compensation to your surrogate? Are you using an agency? Does your surrogate have medical insurance? What are your clinic's fees?
A good rough estimation of how much it costs to use a surrogate mother would be $50,000-100,000 or more. This would be for everything, not just the compensation of your surrogate.
For more information on the fees intended parents pay:
Fees Intended Parents Pay
Do some pay less? Yes. Some do. And some pay more and don't end up with a baby. Surrogacy is expensive and risky.
Does surrogacy cost more or less than adoption?
Again, there is no set answer to this. I've heard stories of intended parents paying thousands in attorney fees and other expenses only to have the birth mother change her mind at birth. And they've had this happen to them more than one time. They might have been better suited, financially, to have started with surrogacy instead.
But then again, there are adopted parents who do not face this happening in their journeys, and have no trouble whatsoever adopting their children. For these parents, adoption is much less expensive than surrogacy.
Generally speaking, if everything goes right, adoption costs less than surrogacy.
Best wishes!