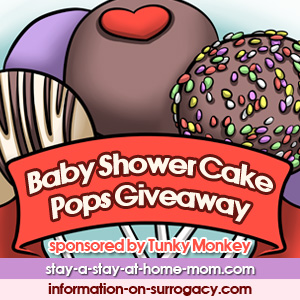 It's time to celebrate baby with a fun treat for the baby shower: Tunky Monkey's Cake Pops.  Winner will receive Pick your Treats for your Sweet Mother-to-Be, up to $100 in cake pops of winner's choice, including shipping.
Here are the giveaway details:
Prize: $100 Tunky Monkey Cake Pops
Giveaway Runs: May 30 – June 21 (dates approximate)
No announcement post is required
All bloggers who choose to publish and promote get one FREE link, Twitter or Pinterest
Bloggers who wish to contribute financially towards the promotion of the giveaway may opt for additional links including Facebook, YouTube, RSS, email subscribe, votes
Co-host and page host spots are available for those who wish to contribute financially
All Facebook links are directly on the Rafflecopter; host pages for Twitter/Pinterest only
Bloggers may enter the event
All fees collected go towards the costs of promoting this giveaway on external websites and/or towards the next giveaway event. Information on Surrogacy does not take any sort of profit from fees.
Fill Out the Form Here to Sign Up